Posted by Rob | Filed under Podcasts

SPC 109
Play Now
|
Play in Popup
|
Download
Hoi en welkom bij StamPodCast #109, alweer een maand geleden maar we zijn er weer met een uurtje geklets en lekkere podsafe muziek zoals de titel al verklapt veel HipHop en Rap.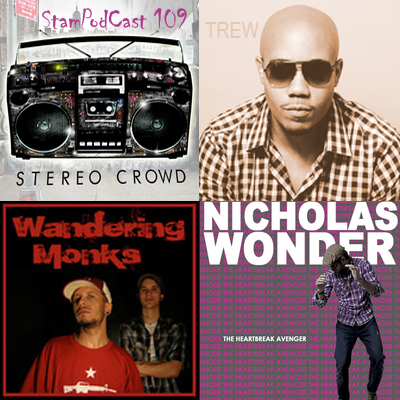 Met een nieuwe pc, naar Tsjechië, een nieuw hoofdstuk uit "Het Juweel Onder De Appelboom", Circus toertje en messenwerpen, onzin momenten, oranje bierblikjes, natuurlijk weer een nieuwe winnaar van de "StamPodCast Award", Chica's verjaardag, het feestje, toneeluitvoering van 8D, bier over het toetsenbord en dit alles met een nog niet helemaal goed afgestelde audio setting.
Ga lekker luisteren en geniet!!
SPC Award winnaar van #108
Green Tea "Indigenous"   CyberPR  Facebook
Trew  "Time Of Our Life" & "Myles"  CyberPR  Facebook
Nicholas Wonder  "Lovely Day" & "The Breakup Song"  CyberPR  Facebook
Wandering Monks  "Focus and Purpose" & "Fiah Back"  CyberPR  Facebook
Stereo Crowd  "Wrongly Accused" & "You Always"  CyberPR  Facebook
Wij vonden het weer erg leuk!!
Bedankt allemaal weer voor het downloaden en luisteren we hopen natuurlijk weer dat jij het ook leuk vond.
Vond je het leuk?  Vertel het minstens één vriend(in) zodat we langzaam aan een leuk clubje luisteraars kunnen opbouwen.
Dank ook aan alle artiesten voor hun medewerking en niet te vergeten dank aan CyberPR en Erik Gordebeke a.k.a. DJ Ergo
Je kunt nog steeds je ideeën, feedback en ander commentaar bij ons kwijt, stuur een mailtje naar Chica @ chicatjakkes(at)gmail.com of naar Rob @ stampodcast(at)gmail.com je kunt ook een commentaar schrijven hier onder aan deze post!!
Een audio commentaar vinden we ook erg leuk,  kun je met je telefoon opnemen, het hoeft geen super kwaliteit te zijn (mag wel) als het maar te verstaan is, mail het naar een van ons, maak je geen zorgen over het formaat, wij zetten het wel om naar een mp3tje en draaien jouw commentaar of feedback in de eerst volgende aflevering.
Tot de volgende StamPodCast waarin o.a. de avonturen van Chica in Tsjechië.
Chica en Rob.
Tags: Circus, CyberPR, Green Tea, Nicholas Wonder, StamPodCast, StamPodCast Award, Stereo Crowd, Trew, Tsjechië, Wandering Monks