Posted by Rob | Filed under Podcasts

StamPodCast 111
Play Now
|
Play in Popup
|
Download
Welkom bij weer 's een nieuwe StamPodCast, aflevering 111. We hebben een gast in de studio. En zoals de titel al verklapt met veel lekkere Dub van o.a. Dubsalon, Alambic Conspiracy, Natty en Izmo. Verder zingen we op Chica's verzoek samen "Jamaica Farewell" a capella, je moet niet op een helling gaan zitten om te poepen, Chica leest een hoofdstuk van "het Juweel", Rob heeft een klacht over een betweterig en incompetent personeelslid  bij de primafoon van de KPN, we gaan op tournee….., blubber op je verjaardag, we hebben ook weer een "StamPodCast Award" winnaar  en aardig wat onzin momenten.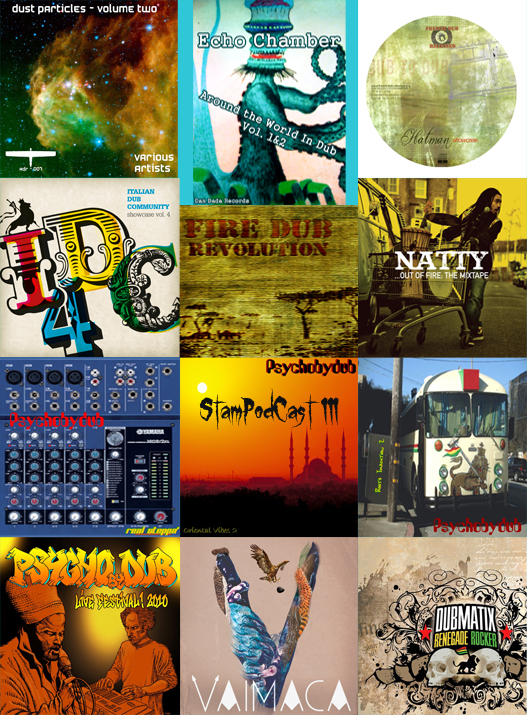 Dubsalon  "Properly Rolled"     Album "Dust Particles volume 2"
Bandulu Dub vs Nahuatl Sound System feat. Ohnri.bass "Cumbia Okachiuali"  en Kukan dUb Lagan "La Vita"
Album "Echo Chamber Around the World in Dub vol 1 & 2"
Hatman "Rastaman Horns"    Album "Hatman Dub to Dub Showcase Vol 1"
Jahno "Geddion Style Dub" plus een Bonus track Gary Clunk "Old Fashioned"     Album "FireDub Revolution"
Vaimaca "Jav a dub"    Album "Vaimaica"
Alambic Conspiracy "Encelado"    Album "ItalianDubCommunity showcase vol.4"
Natty  "Out Of Fire" (Intro) en "Alarm Bells" (feat Sam Frank)    Album "The MixTape"
Vijf tracks van vier albums, gevonden bij PsychoByDub
Weeding Dub "Justice"    Album "Real Steppa"
Les Ailes Du Gazon "Al-Quaïdub"    Album "Oriental Vibes 2"
Baroque Dub "Dubolutions"    Album "Roots Tradition 2"
Izmo "Another State of Dub"    Album "Psychbydub live festival disk1"
"No Gangsters Around" [feat. Bunji Garlin & Faye Ann Lyons]    Album "Psychbydub live festival disk2"
Dubmatix "Dub In Me Hand"    Album "Renegade Rocker"
Bedankt allemaal weer voor het downloaden en luisteren en misschien ook wel het abonneren, Wij vonden het weer leuk en we hopen natuurlijk eigenlijk ook weer dat iedereen het leuk vond. Vond je het leuk?  Vertel het minstens één vriend(in) zodat we langzaam aan een leuk clubje luisteraars kunnen opbouwen. Dank ook aan alle artiesten voor hun medewerking en niet te vergeten dank aan SoundCloud het Internet en Erik Gordebeke a.k.a. DJ Ergo Je kunt nog steeds je ideeën, feedback en ander commentaar bij ons kwijt, stuur een mailtje naar Chica @ chicatjakkes(at)gmail.com of naar Rob @ stampodcast(at)gmail.com je kunt ook een commentaar schrijven hier onder aan deze post!! Een audio commentaar vinden we ook erg leuk,  kun je met je telefoon opnemen, het hoeft geen super kwaliteit te zijn (mag wel) als het maar te verstaan is, mail het naar een van ons, maak je geen zorgen over het formaat, wij zetten het wel om naar een mp3tje en draaien jouw commentaar of feedback in de eerst volgende aflevering.
We wensen iedereen een goeie zomer en tot in september voor aflevering #112
Tags: alambic conspiracy, Bandulu Dub, Circus, dubmatix, Dubsalon, Gary Clunk, Hatman, Jahno, Kukan dUb Lagan, Natty, Psychobydub, Tsjechië, vaimacadub